Based in West Yorkshire, Universal AV has been designing and supplying innovative audio visual solutions for more than 30 years, winning an AV Award for Reseller/Integrator of the Year along the way.
A recent move to new company offices presented an opportunity to design the ideal meeting room space, for both face-to-face and hybrid meetings with staff working from home. Once the integrated screen and camera technology was installed in the room, it became apparent that there was a need to address the effects of an acoustically challenging space, as Marketing Manager Shelley Townend explains…
"The first Teams meeting took place in the office with employees also working from home," she says, "and those at home complained that they just could not hear us clearly, and that every time somebody moved the noise was unbearable. It was so bad that we ended up avoiding external calls in this manner until we had it resolved.
"The Audio-Technica team came to the office, where they carried out an acoustic test and made some recommendations for solutions that have really transformed the space and its usability."
The solution involved the installation of several Artnovion sound absorption panels(distributed in the UK by Audio-Technica), as the company's Tom Macklin, Commercial Audio Business Development Manager UK North describes.
"We were faced with a very reverberant room," he explains, "and it was obvious that some acoustic treatment was going to be necessary to allow meeting participants to hear each other clearly. In addition, the solution needed to complement the aesthetics of the room that the company had worked hard to create.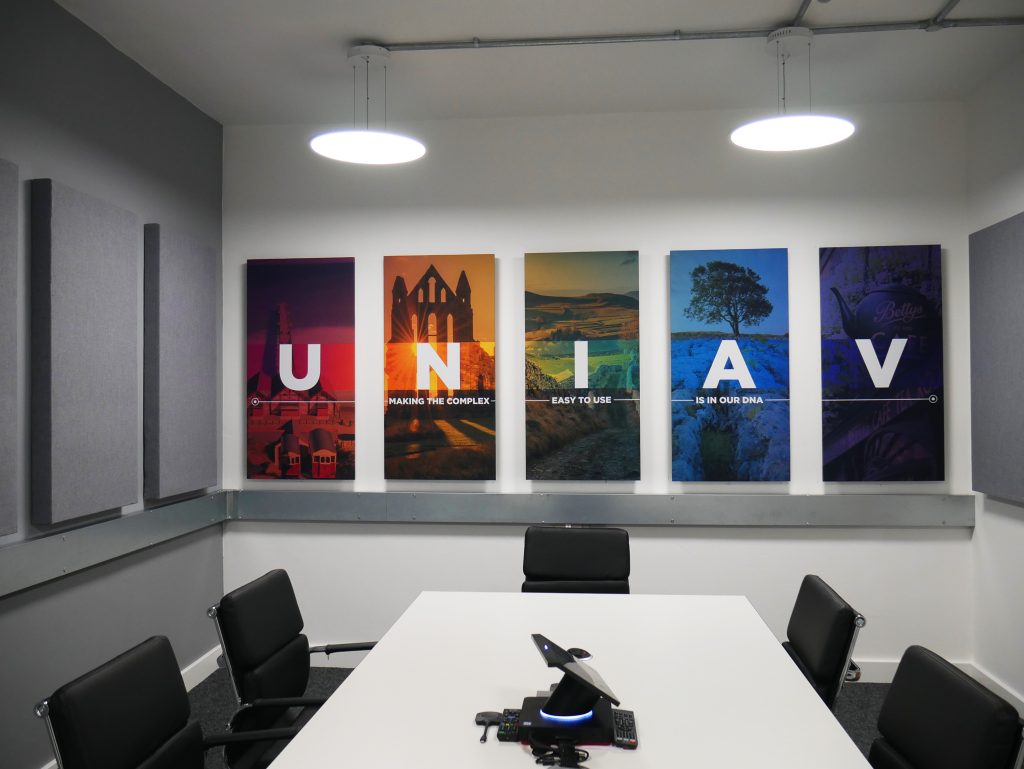 "The solution we settled on involved five Artnovion Turim RCT custom print absorption panels with the Universal AV logo printed on, to provide the perfect corporate ID background for  video calls."
The Turim panels are designed for first reflection control with an absorption range of between 200Hz to 5000Hz and are ideal for reducing the kind of excessive reverberation Uni AV needed to control.
The improvements to the acoustic performance of the room has been impressive, as Townend says, "To be able to host meetings in which we can clearly hear what is being said by all – and be confident those on the other end of the video call are not having their hearing assaulted whenever anyone moves – is fantastic. Not only do the Artnovionpanels look visually striking and provide some color to the room, they also deaden the sound from the outside of the room ensuring any conversations held are done so in private."