Conceived in 2005 to bring world-renowned fashion brands and emerging designers to discerning customers in the North East of England, END is now "a leading fashion, sneaker and design destination" with retail stores in Newcastle, London, Glasgow and Milan. The brand recently opened a stunning flagship store in Manchester, with an audio system designed, installed and commissioned by Tyne and Wear-based Blaydon Communications.
Requiring an audio solution that fitted perfectly with END's distinctive brand aesthetics, Blaydon specified a speaker system from Audio Pro Business that, in Blaydon MD Paul Dougherty's words, "sounded superb, looked even better and would help create an in-store ambience to encourage customers to stay longer.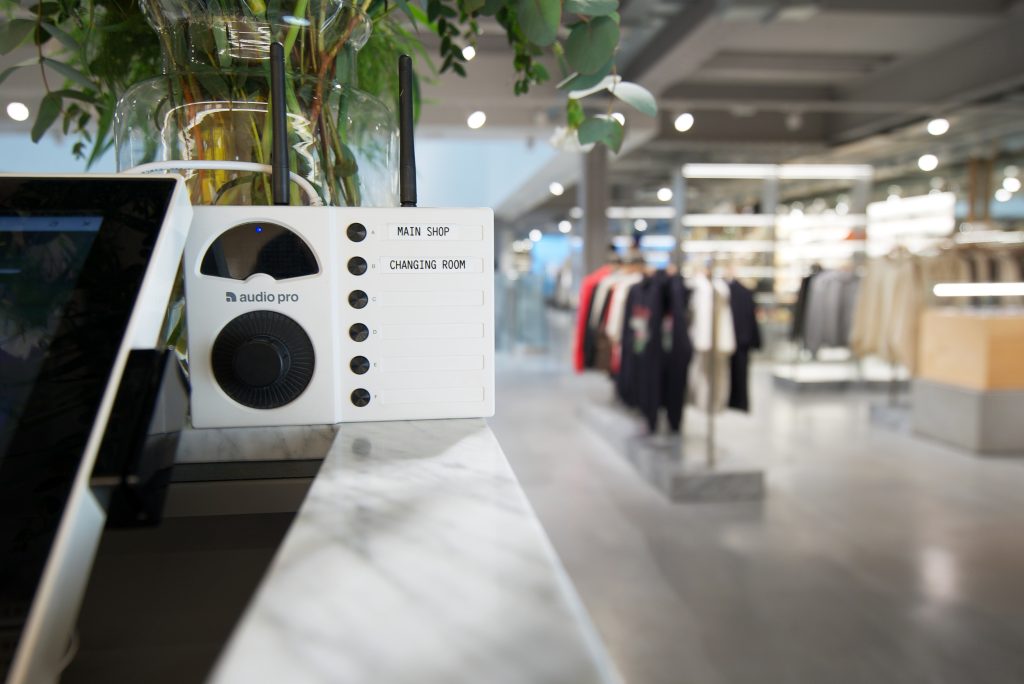 "END, as with other retailers, need complete control of their brand. They want to ensure safe music is played into the store with no profanities and the genre of music must be in line with brand and customer demographic. To achieve this, the client provided a small audio streaming unit that would provide a music feed to the store, once in store, we would take over and distribute that as required. Although the same music was required throughout the store, zoning was still required to ensure a good balance of audio volume levels were maintained. The zones for this project wereground floor retail space, first floor retail space, and changing areas."
The APB system included no less than 12 SP-1 wireless speakers, 9 SP-3 2-way bass reflex speakers, four subs (both 8" and 6.5" versions) an two SPW-5 ceiling/wall-mount speakers, all installed on END's existing lighting track, enabling fast, efficient, cable-free installation. The entire system was specified in white – including transmitters and volume controls – to match the clean, modern END styling in store.
"APB provides a way to achieve simple zoning without installing any cabling," says Dougherty,"The store had a lighting track installation that was compatible with the APB brand, making installation of the entire system extremely quick and painless. In addition, retail spaces are often dynamic and regularly change in layout – with the APB products the sound system can be just as dynamic as the retail space, allowing loudspeakers to be easily moved or added to as required.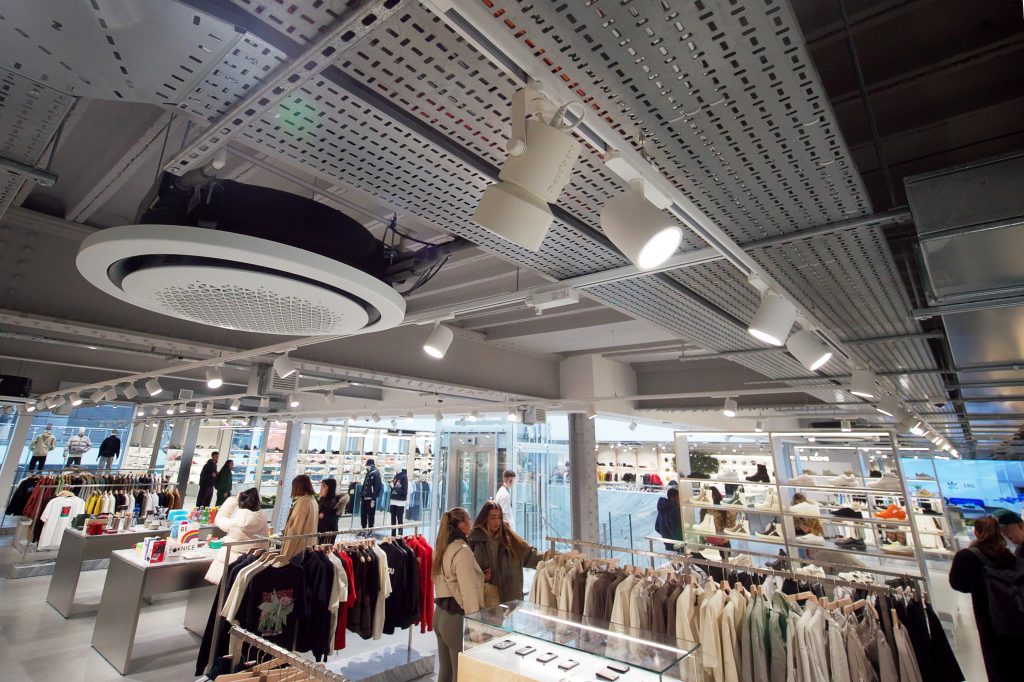 "The APB solution is a superb hybrid system that sits nicely between the domestic and commercial worlds. It offers the audio quality and control of domestic systems but has a robustness and ease of installation that is ideal for commercial environments. Whilst it may be a little more expensive than wired solutions, the ease of installation more than offsets those additional costs.
"Wired systems obviously need cable installed, then a bracket fitted to the wall, speaker installed and connected, then you need a separate amplifier too. With the APB product you simply set which channel you want to pair the system too, clip it into the lighting track, hit the pair button, then sit back with a coffee and listen to some high quality music. It's a great solution for high-end and time-pressured installations."